New Patients at Morris Chiropractic Clinic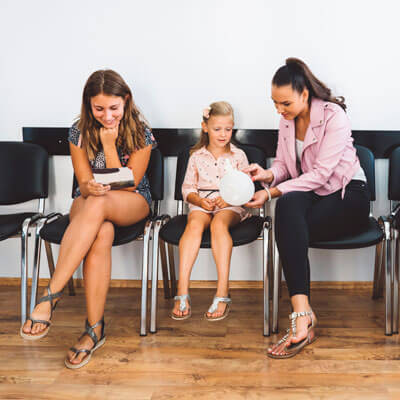 When you visit Morris Chiropractic Clinic, our goal is to help you start feeling better as soon as possible. If you have had any recent imaging, such as MRIs or X-rays, please bring them with you, as it will help us help you more efficiently.
Your First Visit
When you arrive for your first visit, our friendly and engaging front office team will greet you by name and make you feel at home. We provide chiropractic care to many children, and we go out of our way to make sure kids feel welcome.
Next, you'll have a consultation with your chiropractor, where we'll go over your health history and discuss the reason for your visit and any other health concerns, as well as your expectations for care.
The doctor will listen, ask questions, and explain how
chiropractic care
can help in your situation. Then they'll ask if you have any questions—we love answering questions, and if we don't know the answer, we'll tell you that honestly, and then we'll do some research to find the answer for you.
After discussing your health history, you'll have an exam, which usually includes some orthopedic tests, an examination of the spine and posture, and neurological function analysis. This allows us to design a care plan specifically for you and your needs. Then you'll receive your first adjustment. This first visit will take between 30 and 45 minutes.
We offer on-site X-rays if your chiropractor deems them necessary, but for most patients, this is not needed.
Finances and Fees
We never want anyone to be surprised about their insurance situation or costs for care, so there are no hidden fees, and we will tell you everything you need to know when you contact us to schedule.
Take the First Step
Take the first step to optimizing your health — contact us today to schedule an appointment with Dr. Tom or Dr. Danielle.
---
New Patients at Morris Chiropractic Clinic | (419) 692-9050